Library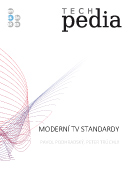 Project


This project has been funded with support from the European Commission.
This publication [communication] reflects the views only of the author,
and the Commission cannot be held responsible for any use which may be
made of the information contained therein.
Moderní TV standardy
Translator: Jaromír Hrad
Tento modul podává stručný přehled o koncepci analogové a digitální televize. Dnešní trendy vývoje v oblasti televizního vysílání se soustředí na integraci infrastruktury pro samotné vysílání a ICT na bázi IP. Nejdůležitějším cílem tohoto výukového modulu je poskytnout přehled standardů pro systémy DVB (Digital Video Broadcasting – digitální televizní vysílání) a HbbTV (Hybrid Broadcast Broadband Television – hybridní širokopásmové televizní vysílání).
Language: Czech