Library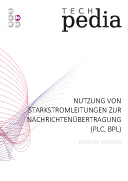 Project


This project has been funded with support from the European Commission.
This publication [communication] reflects the views only of the author,
and the Commission cannot be held responsible for any use which may be
made of the information contained therein.
Nutzung von Starkstromleitungen zur Nachrichtenübertragung (PLC, BPL)
Translator: Alena Dvořáková
Das Modul beschreibt verschiedene Verfahren, Methoden und Technologien zur Nachrichtenübertragung mittels Starkstromleitungen und Stromnetzen. Desweiteren werden hier mögliche Anwendungen dieser Systeme im Rahmen eines intelligenten Energienetzes (Smart Grid) beschrieben.
Language: German