Library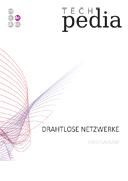 Project


This project has been funded with support from the European Commission.
This publication [communication] reflects the views only of the author,
and the Commission cannot be held responsible for any use which may be
made of the information contained therein.
Drahtlose Netzwerke
Translator: Alena Dvořáková
Dieses Modul bietet eine aktuelle Übersicht der drahtlosen Netzwerke im Allgemeinen und der drahtlosen LAN-Netzwerke im Besonderen. Es beschreibt die Grundlagen der verschiedenen drahtlosen Technologien, ihre Hauptcharakteristiken, die Sicherheitsproblematik sowie Vorund Nachteile und Anwendungen.
Language: German