Library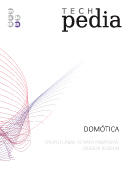 Project


This project has been funded with support from the European Commission.
This publication [communication] reflects the views only of the author,
and the Commission cannot be held responsible for any use which may be
made of the information contained therein.
Domótica
Translator: Jordi Salazar, Santiago Silvestre
La domótica se centra en la automatización de viviendas, de las tareas del hogar o de la actividad doméstica. La domótica puede incluir un control centralizado de iluminación, calefacción, aire acondicionado, electrodomésticos, dispositivos de seguridad tales como cerraduras de puertas y puertas, alarma, etc. También implica el control de las actividades domésticas, como los sistemas de entretenimiento en casa, plantas de interior y riego del jardín o alimentación de mascotas, todo para proporcionar mayor comodidad, confort, eficiencia energética y seguridad. Los dispositivos pueden ser conectados a través de una red doméstica para permitir el control de un ordenador personal, y pueden permitir el acceso remoto a través de Internet. También pueden ser controlados a través de las aplicaciones instaladas en los teléfonos inteligentes o tabletas.
Language: Spanish