Library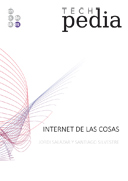 Project


This project has been funded with support from the European Commission.
This publication [communication] reflects the views only of the author,
and the Commission cannot be held responsible for any use which may be
made of the information contained therein.
Internet de las cosas
Este es un curso de introducción a la IoT (Internet de las cosas). En los capítulos primeros capítulos se introducen los conceptos básicos sobre la IoT. Seguidamente se presentan nociones básicas sobre el protocolo de internet IPv6 que es el más utilizado en el entorno de la IoT y se describen las principales aplicaciones, el estado actual del mercado y las tecnologías que permiten la existencia de la IoT. Finalmente se analizan los retos de futuro que se consideran más importantes.
Language: Spanish