Biblioteca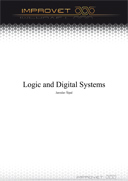 Proyecto


El presente proyecto ha sido financiado con el apoyo de la Comisión Europea.
Esta publicación (comunicación) es responsabilidad exclusiva de su autor.
La Comisión no es responsable del uso que pueda hacerse de la información
aquí difundida.
Logic and Digital Systems
Driving machines or machines can be assigned to one of three groups, which are named: controlling, regulation control and higher forms of control. Module describes essential information about controllers, signal management, filtering signals and fuzzy logic and neural nets. Each chapter is supplemented by examples and final questions.
Idioma: inglés