Bibliothek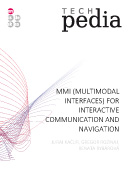 Projekt


Dieses Projekt wurde mit Unterstützung der Europäischen Kommission finanziert.
Die Verantwortung für den Inhalt dieser Veröffentlichung (Mitteilung) trägt
allein der Verfasser; die Kommission haftet nicht für die weitere Verwendung
der darin enthaltenen Angaben.
MMI (multimodal interfaces) for interactive communication and navigation
Multimodal interface (MMI) consists of several topics and modules which serve for natural and user-friendly communication with the system. Altogether, these modules represent the functionality of MMI. The list of modules which can be part of the multi-modal interface is following: speaker recognition, speech and command recognition, multi face recognition, gesture navigation, eye navigation and speech synthesis. This module will introduce some of them, to help understand basic principles and algorithm which meet us in our daily lives.
Sprache: Englisch