Library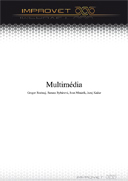 Project


This project has been funded with support from the European Commission.
This publication [communication] reflects the views only of the author,
and the Commission cannot be held responsible for any use which may be
made of the information contained therein.
Multimédia
Translator: Jaroslav Svoboda
Reviewer: Vratislav Davídek, Jiří Egrt
Tento výukový modul obsahuje základní informace o multimédiích. V první části jsou uvedeny základní znalosti o analogových a digitálních signálech, digitalizaci signálů, časové a frekvenční reprezentaci signálů. Další část obsahuje informace o zpracování signálů, analogových a digitálních technologiích, filtrech a popis telekomunikačního kanálu. Na závěr se modul věnuje kompresním technikám audio a video signálů a samotné aplikaci teorie zpracovaní signálů v multimédiích: syntéze řeči, rozpoznávání řeči a obrazu.
Language: Czech