Library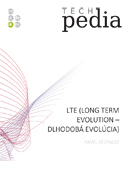 Project


This project has been funded with support from the European Commission.
This publication [communication] reflects the views only of the author,
and the Commission cannot be held responsible for any use which may be
made of the information contained therein.
LTE (Long Term Evolution – Dlhodobá evolúcia)
Translator: Ján Dúha
LTE je ďalším krokom vo vývoji mobilných služieb. Technológia LTE, založená na štandardoch združenia 3GPP, poskytuje prenosové rýchlosti až 150 Mbit/s v smere k používateľovi a až 50 Mbit/s v smere do siete. Pevné bezdrôtové pripojenie a štandardy v pevnej sieti sa už približujú alebo dosahujú prenosové rýchlosti až 100 Mbit/s a LTE predstavuje spôsob, ako prevádzkovať mobilnú komunikáciu na takejto vysokej rýchlosti prenosu dát.
Language: Slovak