Library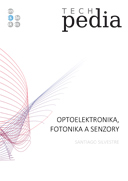 Project


This project has been funded with support from the European Commission.
This publication [communication] reflects the views only of the author,
and the Commission cannot be held responsible for any use which may be
made of the information contained therein.
Optoelektronika, fotonika a senzory
Translator: Michal Lucki
Tento kurz uvádí studenta do problematiky optoelektroniky. V úvodních kapitolách jsou představeny základní pojmy týkající se přenosu optického záření. Fyzikální mechanismy vztahující se k problematice optoelektronických součástek jsou popsány ve čtvrté kapitole. Hlavní optoelektronické prvky jsou uvedeny v páté kapitole. Kapitoly 6. a 7. popisují principy optických komunikací a hlavní aplikace optoelektroniky.
Language: Czech