Library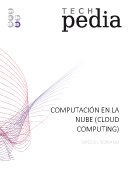 Project


This project has been funded with support from the European Commission.
This publication [communication] reflects the views only of the author,
and the Commission cannot be held responsible for any use which may be
made of the information contained therein.
Computación en la nube (Cloud computing)
Este módulo contiene la información necesaria para ofrecer una orientación básica en el campo de la computación en la nube. Incluye una visión general histórica de esta tecnología, de su arquitectura, servicios y modelos de despliegue. Por otra parte, también se presentan los pros y los contras de la computación en nube en comparación con los esquemas previos de arquitecturas informáticas.
Language: Spanish