Library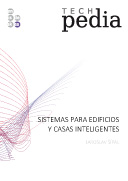 Project


This project has been funded with support from the European Commission.
This publication [communication] reflects the views only of the author,
and the Commission cannot be held responsible for any use which may be
made of the information contained therein.
Sistemas para edificios y casas inteligentes
Translator: Santiago Silvestre
Este módulo ofrece una introducción a la automatización de edificios. En él se describen las tecnologías como los sistemas de seguridad de edificios, sistemas de transporte, sistemas de gestión de la energía y la optimización de las condiciones de trabajo integrado. También se proporciona una descripción de los sensores y actuadores utilizados en edificios, los sistemas de control, buses y protocolos.
Language: Spanish