Biblioteca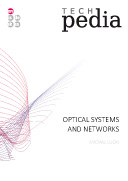 Proyecto


El presente proyecto ha sido financiado con el apoyo de la Comisión Europea.
Esta publicación (comunicación) es responsabilidad exclusiva de su autor.
La Comisión no es responsable del uso que pueda hacerse de la información
aquí difundida.
Optical systems and networks
This teaching material describes optical networks, such as Optical Access Networks, FTTx technology, Active/Passive Optical Networks, optical systems using Wavelength Division Multiplexing: DWDM, CWDM. It introduces parameters and working regimes of optical networks, including system maintenance issues (OTDR, splicing) and signal recovery (EDFA, SOA, Raman amplifiers, dispersion compensation).
Idioma: inglés