Library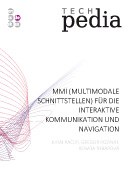 Project


This project has been funded with support from the European Commission.
This publication [communication] reflects the views only of the author,
and the Commission cannot be held responsible for any use which may be
made of the information contained therein.
MMI (multimodale Schnittstellen) für die interaktive Kommunikation und Navigation
Translator: Radoslav Vargic
Das Multimodal Interface (Eng Multimodal-Schnittstelle -. MMI) besteht aus mehreren Themen und Modulen, die für die natürliche und intuitive Kommunikation mit dem System verwendet werden. Alle zusammen stellen die MMI-Funktionalität dar. Zu den Modulen, die Teil der multimodalen Schnittstelle sein können, gehören: Sprechererkennung, Sprach- und Befehlserkennung, Gesichtserkennung, Gesten Navigation, Auge Navigation und Sprachsynthese.
Language: German